Thomson wanted to underscore the universality of the experience many older women find themselves in when they have little savings or pensions, and said the film aimed to reduce the shame many women feel about it. topic.
"With Sheltered I mean, 'We're not disposable, we have something to offer,'" she says. "And for God's sake, give us a home to live in, something we can afford, and then we can give back to society like we always have."
The documentary is narrated by Margot Robbie. Thomson reached out to the Hollywood star after considering how she could get her own daughters to take an interest in the issue of homelessness among older women.
"I thought if I could find someone who was incredibly feminist and young and sexy and Australian, they would pay attention," she says.
"I started to do research and [Robbie] was raised by a single mother and she is an ambassador for a few local organizations in Brisbane. She's made some amazing movies, and she seems to be pushing the wheelbarrow of women and feminism.
Thomson says Robbie charged a nominal fee for her storytelling and then donated her earnings to a women's shelter in Melbourne.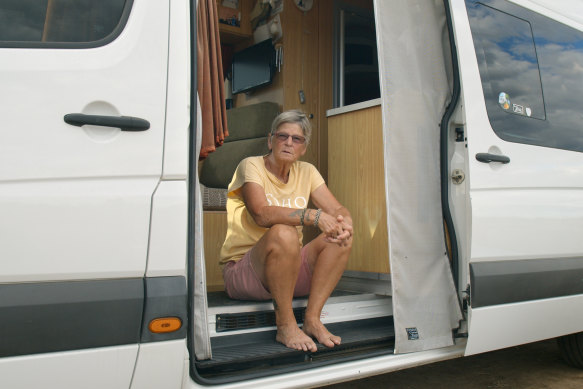 "Sheltered needs to reach young women," says Thomson. "Everyone is now thinking about their future…I'm really proud of this part of the film."
Melbourne Mayor Sally Capp also appears in the documentary. She said no one should have to wonder where they will sleep at night.
"One of ShelteredThe most powerful message is that homelessness can happen to anyone," Capp said.
Loading
Linda Thompson will see the documentary she is featured in for the first time on Wednesday. While being part of the film brought back some of her traumas, she said she was determined to send a message to other women.
"I would make 100% sure that I could be financially independent and be able to own my own property," she says.
"The situation is still not a topic that is discussed enough. You hear a lot about homeless youth, I don't think you hear a lot about homeless older people, especially older women. »
Under Cover screens as part of the Melbourne International Film Festival on Wednesday August 17 and Friday August 19. The Age is a partner of the festival.